Skip to main
THE MUSEUM OF THE TEUTONIC ORDER AND ITS ILLUSTRIOUS HISTORY
Mergentheim Residential Palace
Clearly. Concisely. Informative.
Brochures
Our brochures provide all the information you need on our heritage sites: opening times, entrance fees and special tours, and on how to contact us. Some are available in English; however, we regret to say that at present, this page of the website only exists in German.
Mergentheim Residential Palace
At a glance | 2021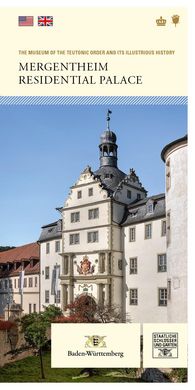 Monument brochures
The Museum of the Teutonic Order and its illustrious history: Concise facts of the monument and information about opening times, admission and contact.
Brochure PDF